STRUGGLING WITH Shoulder Pain?
Shoulder pain is frustrating and can make daily activities very difficult. If you are an athlete, shoulder pain can make your job much harder, or may even put you on the bench for months.
For those seeking relief from shoulder pain and corrective procedures that treat the root of the problem, you'll want to consider chiropractic care and physical therapy.
Achieve Health and Wellness offers top quality shoulder pain treatment services. We get to the root of your shoulder pain and prescribe a treatment plan that is intended to not only get rid of the pain but heal the shoulder. Reach out today to schedule an appointment for Dr. Fisher to examine your shoulder and put together a treatment plan customized to meet your specific needs.
Suffering From Shoulder Pain? Contact Us!
Anatomy of Shoulder Pain
Did you know the shoulder is the most flexible joint in your body? It is also one of the most complex.
You may not realize how many daily activities involve the use of your shoulder until you start to experience stiffness, pain, and discomfort. On top of the pain, you may experience issues with mobility that make your daily tasks difficult to complete.
Your shoulder is made up of multiple tendons, three bones, bursa, tissue, ligaments, and nerves. These all work in tandem to ensure your shoulder functions properly. With all of these moving parts, it's easy to see that there are lots of opportunities for things to go wrong. If any of these parts sustain an injury, it can affect you in anywhere from a minor to severe way.
Treating Shoulder Pain
There are a few ways to treat shoulder pain. One way is chiropractic care. While many people think of back pain when they think of chiropractic care, it's actually not the only kind of pain that can be treated. Chiropractic treatment can actually be used to treat many different types of shoulder pain (depending on the reason for it).
Shoulder Adjustments
Having a shoulder out of alignment can lead to pain, stiffness, inflammation, and muscle spasms. In order to treat this, your chiropractor will either manually adjust the shoulder or use a hammer tool and/or speeder board. Adjustments are gentle, and many patients feel better right after treatment.
Posture
While improper posture often causes back pain, it can actually cause shoulder pain as well. Poor posture can pull your shoulder out of alignment. Your chiropractor will diagnose the cause of the pain and, if it's due to posture, he will provide you with tips to improve your posture.
Physical Therapy
Physical therapy is a form of rehabilitation that involves the use of stretches and exercises to treat patients that have been injured. The treatment of shoulder injuries often requires physical therapy to return the shoulder to its former strength and mobility.
With physical therapy, there are often manual techniques performed on the patient along with stretches and exercises. The goal of the treatment is to alleviate the current pain, discomfort, and mobility problems and prevent the injury from returning.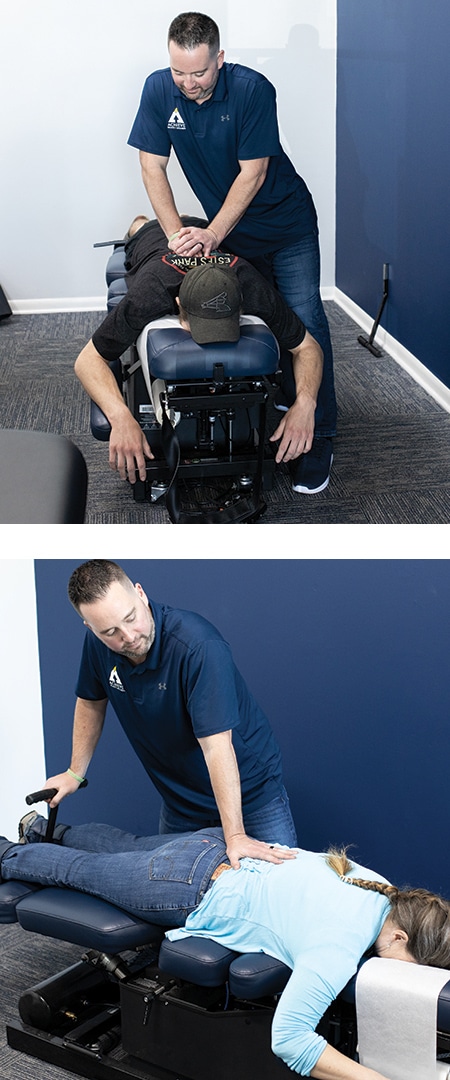 Dr. Fisher Physical Therapy Techniques
Dr. Fisher uses multiple techniques to treat injuries that require physical therapy. These include massage therapy, corrective exercises, stretches, and postural assessment and training.
The massage therapy methods performed include active release technique and myofascial/trigger point release therapy. Soft tissue mobilization helps with breaking up scar tissue and adhesions, easing pain and tension, and increasing circulation.
Corrective stretches and exercises help to reduce inflammation and swelling, balance the spinal system, improve balance and coordination, maximize mobility, and improve strength and endurance.
Through postural assessment and training, patients learn to move in a way that is more efficient. This increases energy while reducing pain and discomfort.
Suffering From Shoulder Pain? Reach Out To Us

Is there a Difference Between Chiropractic Care and Physical Therapy?
While both chiropractic care and physical therapy provide holistic solutions and are similar in some ways, they aren't exactly the same. With that said, they share many techniques and services that include corrective exercises, massage and soft tissue mobilization, lifestyle counseling, and point mobilization.
One of the main differences that sets the two apart is the focus chiropractic care has on spinal health and function, adjustments, and joint mobilization intended to reduce pain and improve mobility. The main focus of physical therapy is to help with recovery. They often share many of the same techniques, though.
When you visit Achieve Health and Wellness, Dr. Fisher will perform an examination and determine which treatment techniques are best to help with your shoulder pain and recovery.
About Us
Achieve Health and Wellness is a provider of chiropractic services and physical therapy that offers only the highest quality services and care. We service the residents of Bolingbrook, Naperville, and Lemont. We offer a range of services that include diagnostic, preventative, and treatment.
Dr. Fisher will determine what is causing your shoulder issue and then put together a plan to restore your mobility and strength. If there are additional issues, Dr. Fisher will uncover them and treat them in a holistic and effective manner.
Contact Achieve Health + Wellness today!
If you are currently experiencing shoulder, back, neck, or knee pain, reach out to Achieve Health and Wellness today to schedule an appointment with Dr. Fisher. He'll perform a thorough examination to determine what is causing the pain, swelling, inflammation, and/or mobility issue. Once he uncovers the root cause, he'll put a plan in place to treat the symptoms and the underlying issue. This may include chiropractic adjustments, physical therapy, cold laser therapy, massage, and any other form of treatment he believes will offer you the best results.
We understand how frustrating shoulder pain and discomfort are. Contact us so we can provide you with the relief you are looking for.